Wise County Historical Society
Wise County Virginia's

150th  Anniversary
Sesquicentennial 1856-2006
Note:  The Sesquicentennial: 150th year of our county has passed. We are keeping this page as a remembrance

Wise County, Virginia Sesquicentennial Commemorative Envelopes
The Wise County Historical Society will offer for sale on October 7, 2006 during the Wise Fall Fling a limited number of Commemorative Envelope sets.  The set consists of eight envelopes with an early photo depicting the county and each of the towns…Wise, Pound, Norton, Coeburn, St. Paul, Appalachia and Big Stone Gap, as well as a photo that represents the county.
These envelopes will be cancelled by the post office with the Sesquicentennial Logo 1856-2006.  There will also be a limited number of sets of envelopes that will be suitable for mailing.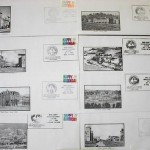 The package will sell for $10.00 if picked up at the Wise County Historical Society office in Room 250  of the Wise County Courthouse.  If you would like to order a set, the package will sell for $11.00 ($1.00 S&H), please send check to The Wise County Historical Society, P.O. Box 368, Wise, VA 24293.
These are one-of-a-kind Commemorative Envelopes will be produced during the Sesquicentennial and will only be cancelled on October 7, 2006.  These Commemorative Envelopes will only increase in value.
Do you remember 1956, the 100th year of our county?
Wise County Historical Society is compiling a new Pictorial book with photos never before published.  If you have clear unpublished pictures you would like to see in the book, please send non-returnable copies to: Wanda Rose, PO Box 268, Wise, VA 24293
Note: The compiling of the Pictorial book is on hold at the present time.
Wise County Historical Society, P.O. Box 368, Wise, VA 24293