February 4, 1999
Wise County's Apple Blossoms of Yesteryear by Denver "Bud" Osborne and the Book Committee.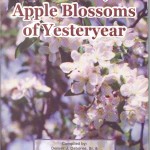 Apple Blossom book cover photo is from the apple orchard of Letcher and Fannie Steele
It was reported that the Laurel Grove Cemetery book has been completed and is now for sale.
Wanda Rose made the motion that we give a Heritage of Wise County, Volume 1 to the Big Stone Gap Library in memory of Darthula (Dot) Carroll.  A plaque will be placed in the front of the book stating that it was given in her memory.
Ganell Marshall told of an Appalachian Consortium in Abingdon, VA on March 19, 20, and 21st. Discussion was held as to whether we should try to sell copies of the Edith Maxwell Trial, among other books. Ganell made the motion that we participate in this and have a table to sell books.  The motion carried.
A new cover will appear on the front of the Appalachian Quarterly for March
March 4, 1999
Wanda had been to H&R Block  today regarding our corporate taxes

Senator Wampler suggested  that we go before the board and ask for an exemption

Bud stated that CVC has a copy of the Edith Maxwell Trial

Discussion about whether or not to type the Edith Maxwell trail for sale.

Fannie Steele was asked to  type  the Trial of Edith Maxwell
The Trial of Edith Maxwell-Wise County Virginia 1935, A Court Transcript of the actual trial was typed  by Fannie Steele which consisted of 202 pages.  The Edith Maxwell Trial was the most publicized trial in  Wise County and was known about all over the United States. It is still talked about today and books are still being written about this trial.
April 1, 1999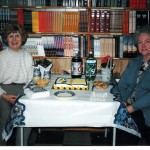 A surprise birthday party was given for Fannie Steele and Dorothy Witt on Thursday Night, April 1st.  No business session was held as we all ate birthday cake, drank cokes and made merry.  And a Happy Birthday Party was had by all.
May 4, 1999 Discussed  the business of The Heritage of Wise County and The City of Norton, Vol. II.  Discussion of ways to advertise.Mention of  sending  a WWII book to the Library of Congress
July 6, 1999
Wanda Rose read a Thank you note from American Brain Tumor Association, thanking us for our $25.00 donation to the Justin Porter Walkathon in honor of Golda Porter.Ms. Rose reported that she recently received five orders for the  Vol. II History of Wise County and the City of Norton book.We plan to have booths at the Wise County Fair, during Home Craft Days at Mountain Empire Community College and at Duffield Days.
Ernie Benko has expressed a desire to film one of our meetings.
August 3, 1999
The Annual Board of Directors' Meeting of the Wise County Historical Society was held in their office in the Wise County Courthouse on august 3, 1999.

New business was to elect new officers for the Board of Directors, and the following ten names were given:  Dorothy Witt of Wise – Director and Past President;  Mildred Hughes of Wise; Denver Osborne of Wise;  Paul Kilgore of Norton;  Rhonda Robertson of Norton;  Nina Mullins of Pound;  Fannie Steele of Wise;  Bill Porter of Coeburn;  Lillian Gobble of Big Stone Gap;  Gaynell Marshall of Coeburn.
These officers were approved for the upcoming year.

Report that we have a large order  from the Appalachian State University for books.

Mention from a member that it would be profitable to mail book lists to all libraries in the area.
September 2, 1999
We have been asked to have a display of old pictures of present day towns for the Fall Fling.  We should use pictures that have not been displayed previously.
The Joint Legislature Audit in Richmond will be sending us spread sheets to find out where our Revolutionary soldiers are buried.  Bill Porter made the motion that we help them all we can on this.
Bill Gobble received a letter from Richmond which was signed at Pound Gap and Benge's Gap.  There are questions as to whether Benge went through there or not.
Fannie Steele is typing the Maxwell Trial and will bring it to the office.
Bill Porter will sell books at the huge yard sale in Coeburn
It was decided that WCHS extend the deadline for Volume II Heritage printing in January 2000.
October 7, 1999
Bill Porter reported that Archer Blevins wants to set up an Appalachian General Workshop in the fall of 2000.  He wants to get all the Appalachian areas involved in it and have it at East TN State University.
Web-page advertised that anyone who sends their address in would get an Appalachian Quarterly free.  2,108 were mailed out and 8 of them went to Canada.  The cost for mailing them was 1.80 each.  There were 43 mail bags full.  Rhonda did this with the hope that at least half of the people who received an Appalachian Quarterly would like it well enough to subscribe to it.
We will meet on Saturday, October 23rd at the Coeburn Library at 2 p.m., and again on November 20th, to get photographs and histories for Vol. II Heritage of Wise County.
If you know of any Revolutionary War burial sites  in Southwest VA, let Bill Porter know by Nov 1st.
Wanda has donated one of the Apple Blossom books to Coeburn library in memory of a friend.
Wanda Rose and Nina Mullins will go to Mountain Empire Craft Days on Oct. 16th and 17th, to sell books. Gaynell will also be there with her (corn-shuck) dolls.  (Fannie Steele was there also.)
Dorton Fort will be in our December issue of the Appalachian Quarterly.  The Benge Research Committee is working on a special focus.
The special focus for December Appalachian Quarterly will feature George C. Scott.
Our Christmas Party was discussed and Bill Porter made the motion and Fannie Steele seconded, that we meet at Bonanza for lunch on Saturday, December 4th.
November 4, 1999
Mr. Gobble reported that the man from VDOT will be here on November 16th to discuss replacing two road markers:  The 1774 Benge Gap marker and the Pound Gap marker.  Bill would like to find out who was responsible for the information on the markers.  It was suggested that the Benge Gap marker go on the road between Big Stone Gap and Appalachia as it should be where it can be easily seen by tourists.  All society members present agreed that it would be good to put the Benge marker at the overlook at Powell Valley and that the Pound Gap marker should be put on the VA/KY line, right on top of the mountain no Route 23, four miles north of Pound.

Paul Kilgore suggested that we should try to find out who has lived in three centuries.  He knows one lady who is 104 and if she lives until 2000, will have lived in three centuries.
(The December meeting will be combined with the Christmas party )