Wise County Historical Society was established in August of 1992 as a result of a small group of 14 individuals meeting  1991 in the cafeteria of the Wise Appalachian Regional Hospital in Wise to discuss the possibility of publishing a book on our county and city heritage. From that time on monthly meetings were held which resulted in organizing the Wise County Historical Society in 1992 with 61 charter members. During the following years Wise County Historical Society grew and flourished, peaking at a thousand members from across America. The first publication was The Heritage of Wise County and The City of Norton-Volume 1.
From the establishing of the Historical Society to the present the Historical Society has published eight books, and three Historical Calendars.
We regret that we have lost membership during recent years due to the economy.  We are making a membership drive to add new members.  For further information contact Wanda Rose at 276-328-6569
 Wise County Historical Society has partnered with Mountain Empire Community College to continue providing historical records to our patrons.  Books and records for sale will be provided by MECC.  Now available. 
For more information please click the following link to go directly to the MECC Bookstore website.
Thank you for your patience during this time of transition.
—Weather permitting
The Wise County Historical Society will meet April 1st at 1:00 O'clock in the 
library at Mountain Empire Community College.
Our speaker will be Mr Rodrick Mullins. His topic will be Brandy Jack Mullins.
Everyone is welcome. Come and bring a friend.
Wanda
Visitors at Wise County Historical Society at the courthouse in Wise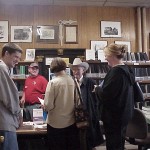 Note:  Wise County Historical Society is no longer located in the Courthouse at Wise.  Meetings will be announced on this website.  
The bookstore at MECC invites you to come in and browse our books for sale.  
Bill and Lillian Gobble will be in the Wampler Library  at MECC  on certain days to help with your genealogy research.  Call the Library for hours.
Wampler Library – 276-523 – 7468
MEEC Bookstore – 276-523-7461
 Look for further information soon.
OFFICERS
President:  William "Bill" Gobble
Vice President:
Treasurer:  Wanda May Rose
Secretary:  Fannie Lane Steele
3 Dec 2011, by Fannie Steele
Continue reading
Wise County Historical Society