David Chaltas will present a program on Robert E. Lee at the Wise Library, at 1:00 pm, Saturday, November 13. Free to the public.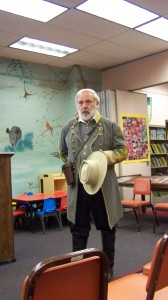 David Chaltas brought a wonderful performance of General E. Lee November 13, at Wise County Public Library.
David is a nationally recognized living historian and educator. He won the coveted 2001 Teacher of the Year by the KY council of children with Behavorial Disorders, being the 1st. recipient in the state of Kentucky. He is a sought after speaker nationally and has written several books including [intlink id="8″ type="page"]The Legend and Legacy of Lee[/intlink], [intlink id="8″ type="page"]Poetry of the Civil War[/intlink], and [intlink id="8″ type="page"]The Fading of the Grey[/intlink] plus several more.  The Historical Society has some of his books for sale.