Denver J. "Bud" Osborne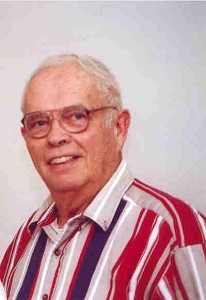 Denver J. "Bud" Osborne is a charter member of the Wise County Historical Society, serves as its Vice-President and has held that position for several years.  He is a member of the First Baptist Church in Norton serving as Deacon and Sunday School teacher.  He is an orchardist who enjoys teaching pruning and grafting of fruit trees.  Bud is a member of 40 years with Suthers Lodge #259 in Norton.  He is also an avid collector of fountain pens and Indian artifacts.
Bud is the compiler of the book, Apple Blossoms of Yesteryear, a history of the apple industry in Wise County.  He can be found volunteering in the society's office on Thursday afternoons.  Bud is constantly on the lookout for rare books for our archives and due to his sharp eye for them, the archives is fortunate to have  several rare books, photos and documents we otherwise would not have had.  Bud refinishes copies of  old black & white photographs in full color, stating the subjects were indeed in color at the time the picture was taken, but there was no color film then. He is a man of many talents.
He is married to the former Katherine McCamey of St. Paul.  Kathy is a realtor with Century 21 in Wise.  They have three children: Penny Osborne who lives in Charlotte, NC; Jackie who lives in Wise and is married to Ed Withrow, and D.J., Jr. who lives in Santa Cruz, CA and is still single.  Jackie and Ed are the parents of Bud and Cathy's two grandchildren, Edward Denver and Alexander Logan.  Bud and Cathy make their home in Wise.