The Appalachian Volume 13 No. 3 – October 2008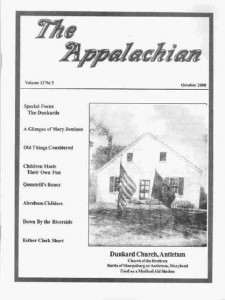 Special Focus: The Dunkards
A Glimpse of Mary Jenison
Old Things considered
Children Made Their Own Fun
Quantrill's Bones
Abraham Childers
Down By the Riverside
Esther Clark Short
From the Desk of the Editor
I would like to take this opportunity to thank all of our subscribers who responded so positively about our decision to reduce to two issues per year (April and October) rather than cease publication of the magazine.  It was a hard decision to make, but unfortunately a necessary one.  So, this issue is the last issue of 2008.
We have also received responses from our subscribers with stories they have written and submitted.  Jett Croy has shared a photo of her Civil War Grandfather and we would like to encourage all our readers to share the history of their ancestors, along with photos.
Of all the books published by the Wise County Historical Society, "Between Brothers," the biographic history of the Civil War soldiers from Wise and Dickenson Counties, Va., was instrumental in preserving not only their service records, but their photos as well.  All counties in the U.S. should produce Civil War Biographical histories before all the stories and photos are gone.
We hope you enjoy this magazine as much as we have enjoyed preparing this issue.  Merry Christmas and We'll see you next year.