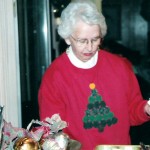 Wanda Rose is a charter member of the Historical Society and was instrumental in the compiling of the Wise County Heritage Book and The City of Norton Volume 1, and was Vice Chairman of the Book committee. She helped compile the book WISE COUNTY, VIRGINIA'S WORLD WAR II VETERANS: A Tribute,  which consists of 928 pages,  6000 stories and 3000 pictures. She is now treasurer of the Historical Society, a job which she fills with great dedication.
It can truthfully be said, "Wanda is a gift to the Historical Society."  She can do most anything, and if we need help in solving a problem, Wanda is the one to call upon.  You name it, she does it!  She serves as our Circulation Manager and maintains our photo archives which was amply used in Heritage volume II. Wanda proof's our Appalachian Quarterly and oversees the quarterly mailing of the issues to our many subscribers.  She takes book orders and mails them out..  She is constantly on the phone, making trips to the post office or bank, and looks out for our financial status.
Wanda was a volunteer at the Wise Appalachian Hospital and was Gift Shop Manager and buyer for 20 years.  She, along with Dorothy Witt, installed Lifelines in Wise and Dickenson counties for disabled people. She served as Director of the Arts and Photographer exhibitions for the Virginia-Kentucky Fair for several years.  She currently belongs to the Wise Quilt Group which she helped organize.
Wanda is married to Stuart Rose, formerly of Banner, and they recently celebrated their 50th wedding anniversary.  They are the parents of three sons: Benjamin of Charlottesville, VA; Joe Fred of Wise and Steven, deceased, of Wise.  They have four grandchildren, Penny, Autumn, Patricia "Trish" and Wesley and 1 step-granddaughter, Kate, and five great-grandchildren, Leah, Alexandria, Grayson, Damon, Shane and a step-granddaughter, Anatasia.  Wanda and Stuart live in Wise, Virginia.
Wanda is very dependable, has a wonderful personality, and is great company.