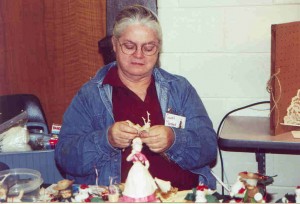 Ganell serves as the Associate Editor of the Appalachian Quarterly published by Wise County Historical Society and works tirelessly with the set-up and lay-out of the magazine. Ganell puts in many hours of hard work each month  putting material into page-maker, working with pictures and finally printing it out for final proof- reading.
Ganell was born in the Riverview section of Coeburn, Virginia.  She was married to the late Darvin Marshall,  They have two sons: Bill and John Marshall.  Ganell lives in the Sandy Ridge section where she and Darvin made their home.
Ganell has put in countless hours in building and helping maintain the Sandy Ridge Old Regular Baptist Church and the old school building.  She has taken on the responsibility of copying any old church records pertaining to the Old Regular Baptist  Church that can be found.  She has worked for about 40 years on her family history research.
Ganell has worked with crafts since 1960 making corn-shuck and apple-head dolls as well as serving as an officer in craft organizations.  She is a member of the Southern Highland Craft Guild, past and present member  of Sandy Ridge Handicrafters; past member of Piedmont Crafts, Inc.; past member of the Blue Ridge Hearthside Crafts, as well as others.  Her work has been featured on White House Christmas trees several times; in the Smithsonian Museum; in national magazines and special exhibits across the country.  She and her husband Darvin, were active in the formation of the local community center at Fairview School on Sandy Ridge.
In addition to the Appalachian Quarterly, corn-shuck dolls, and everything else she does, Ganell enjoys helping others in  learning to  use the computer.