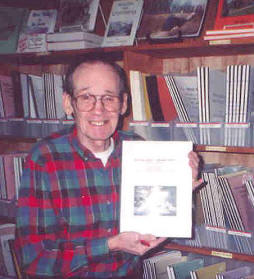 Paul is a charter member of the Historical Society and provided all the information from his personal research on the City of Norton Chapter for Heritage II.
Paul is knowledgeable in researching deeds, which are his particular speciality and has helped hundreds of folks coming to Wise County to research their families. In addition  to his work in the court records, he has also visited and documented 95% of all the cemeteries in Wise County.  If you happen to be in a Wise County Cemetery and meet a tall, thin man, with pencil and paper, that's Paul.  Ask him anything you want and chances are you can't stump him with a question on Wise County History or its people.  Paul  keeps the Archives office open on Tuesday Afternoon.  Paul and his wife Pat have one son, Paul Jr. and two grandchildren and have lived in Norton for many years.  Paul retired from Sears after working for Cohens Department store in Norton for many years.
Paul is now researching and compiling a book on Norton, Virginia.