It is with much sadness and regret that we at Wise County Historical Society bring you this sad news.
Our beloved member and friend, Dorothy Hall Witt and first President of the Historical Society has passed away on January 2, 2011.  She was not only  a member of our Historical Society, but our friend as well, and will be sadly missed.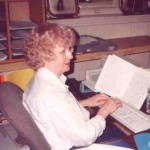 We, the members of the Wise County Historical Society, would like to take this opportunity to offer a tribute to our first president, Dorothy Hall Witt. Without  her foresight and perseverance the Historical Society of Wise County would not exist today.
Dorothy Hall Witt our distinguished first president and charter member of the    Wise County Historical Society was instrumental in  the compiling and publishing  of The Heritage of Wise County and The City of Norton, Volume 1 and 2, among  other publications.
She was also instrumental in the establishing of the Wise County Historical Society. She served as the President of the Historical  Society the first years of its establishment.
While helping on the Lee County Book Committee in the creating of the Bicentennial History of Lee County Virginia published in 1991, Dorothy felt the need for the same in Wise County, and was instrumental in forming a group of Wise County historians who published their own Heritage of Wise County and the City of Norton Volume 1 in 1993. She was Chairman of the Book Committee and was elected President of the Wise County Historical Society when it was organized.
For the past 8 years Dorothy has served as recording secretary for the Wise County Historical Society and has worked a day or two a week at the office in the courthouse. She also is the editor of the Aging Gracefully segment of the Appalachian Quarterly published by Wise County Historical Society. She along with her friend and co-worker, Wanda Rose traveled over the county working on volume 1 of Wise County and the City of Norton, and installing lifelines for disabled and the elderly, she became interested in interviewing older people, which was the birth of Aging Gracefully in Appalachia.
Dorothy's heritage is completely Appalachian as her father was a native of Lee County and her mother was a native of Russell County. Dorothy was born in Norton, grew up in Powell Valley, graduated from East Stone Gap High School, lived in Coeburn for twenty years and has lived in Wise for the past 33 years. She completed several courses at Clinch Valley College in English, Creative writing and Appalachian culture.
Dorothy worked for 14 years for the Department of Social Services, then worked as a medical transcriptionist and secretary at Wise Appalachian Regional Hospital for 19 years, retiring in 1989 to travel and pursue all the volunteer activities in which she was interested.
She has two sons, Hal Addington of Pinckney, Michigan, and Tim Addington of Atlanta, Georgia, and one grand-daughter, April Addington, a sophomore at Virginia Tech in Blacksburg. Dorothy is married to Harold Witt and they reside in Wise.
Dorothy is a dedicated member, wife, mother, and grandmother. She is good company and has a great sense of humor.