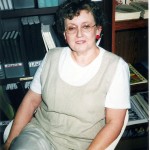 Nancy has an abiding and deep interest in people, particularly in Southwest Virginia, their lives and their history.  Her aim is to preserve the Appalachian heritage in such a manner that our children in future generations will know as much as possible about their origin and be proud of it.
Untold hours have been spent reading and transcribing microfilm records, digging through books and papers in courthouses and library archives.  Miles have been covered while recording names and dates in long forgotten, overgrown cemeteries. Interviews with aged men and women have yielded priceless memories and knowledge.
Nancy serves as the Special Focus Editor for the Appalachian Quarterly and assisted with The Heritage of Wise County Volume  II, from selecting photos, to lay-out to whatever needed to be done.  She has co-authored several volumes of genealogy including the famous Stallard Connection and The Descendants of William Addington.  She has also published several volumes of county records, such as census and marriages.  She was Co-Editor and Co-Publisher of The Southwest Virginian magazine of history and genealogy.
Nancy is our resident story-teller, if you've got a topic, she's got a story. No story's too big…no story's too little.  She has published several of her stories from the unpublished manuscript, "You Can't Get There From Here," in the Appalachian Quarterly.
Nancy is married to Cecil Brown and they live in Longford Kansas, but she also has a home in Wise County where she comes often.  Nancy is a Wise County native, born and raised in Pound before moving to Wise where she lived until she married Cecil.  Her mother, Violet Clark still lives in Wise.  Nancy has four children, three step-children, three grandchildren, and seven step-grandchildren; and two step-great grandchildren. (Update: After the death of Cecil Brown, Nancy is now married to Hays).